FAQ - Frequently asked questions
All the answers to your questions about Smart Disk Checker and SDC PRO
Smart Disk Checker
What is SMART (Self Monitoring Analysis and Reporting Technology)?
What are the limits of SMART?
SMART is enabled by default on most motherboards and operating systems. As a data recovery lab, we know that many customers who experience hard drive or SSD failures are not alerted. Why?
The thresholds defined by the manufacturer are not sensitive enough;
The weight of some attributes is not critical enough;
The information is incorrect (bad drivers, incompatibility motherboard or external enclosure, etc.);
An external event (shock or electric surge for example) can lead to an immediate or very rapid failure of the media before the degradation is perceived by the SMART indicators.
The solution: regularly monitor the indicators with Smart Disk Checker, which uses raw and factual values to point weak signals and thus anticipate hardware replacement.
And of course take care of your hardware and make regular backups!
Is Smart Disk Checker free?
Smart Disk Checker is a FREESMART checker software.
It includes an eraser and a hexadecimal viewer.
Some features such as reading tests, diagnostic reports and access to SDC Center are reserved to SDC PRO which is the professional version of Smart Disk Checker dedicated to IT professionals.
Why did Smart Disk Checker find errors on my new SSD?
Some SSD manufacturers do not reset the list of defective blocks from the factory.
Thus, Smart Disk Checker, which takes into account the raw values, may issue a "Warning" alert.
We advise monitoring the evolution of the number of defective blocks.
Why can't Smart Disk Checker test a SATAFIRM S11 disk?
When your HDD or SSD is identified as SATAFIRM S11 in the bios or by Smart Disk Checker, it is unfortunately already too late.
It is not properly recognizedand defective.
Therefore, Smart Disk Checker cannot report SMART information.
It is not possible to run reading tests and create reports with SDC PRO.
SDC PRO
How to register Smart Disk Checker in SDC PRO version?
After registering, an email including your username and password to SDC Center is sent to you.
All you have to do is activate the software via the "Account and settings" menu and then "Connect".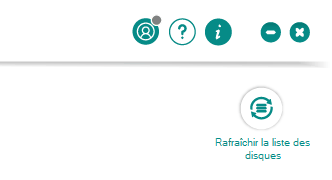 Why is the reading speed of my HDD different between the quick diagnostic and the full diagnostic?
Simply because the test methods are different.
Quick diagnostic: A sample of 10 million small blocks (4×256 sectors) spaced in a regular way are taken into account to launch a surface check. So there is almost no sequential reading and a lot of jumping (moving) from one block to another. The goal is to detect very quickly slowness or defects.
Full diagnostic: All the sectors are analyzed in a contiguous way with the surface verification command on large blocks. The time required to move the reading heads is minimal. The spped is therefore logically more important.
NB. The values are hardly comparable to a "normal" Windows workstation speed, because it is the surface check command that is used and not the read command.
Why are HDD reports different from SSD reports?